Dr. Mahesh, Seema
APMA- the one stop solution to every NEET aspirant's problem.
Having scored marks as low as 335 in NEET 2022, we were extremely worried about what the next step should be. That was when Himani ma'am guided us in taking a decision to invest another year, and this definitely proved to be our best investment.
At APMA, all the teachers are very dedicated and helpful, and they not only taught textbook subjects but also ways to tackle difficulties which students face.
The small batch size and personal doubt solving kept Janvi engrossed throughout the preparation. The NCERT based tests also helped her pinpoint mistakes very accurately.
During all episodes of lowered self confidence which Janvi faced, she was motivated and mentored in every way possible. APMA's focus on "only NCERT" was the key to crack such a competitive exam.
We are very grateful to the entire team for making Janvi's dream of Government Medical College come true.
Dr. Mahesh, Seema
Janvi Bora Parents
Chandrashekhar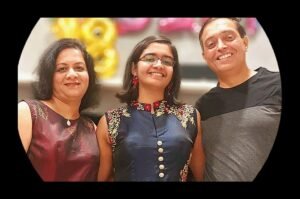 Deciding almost at the end of 12th grade to pursue medicine, Rachan was left with only 11 months to prepare, during which the teachers and councellors at APMA have helped to the fullest. Thanks to Physics and Chemistry professors who ensured that she completed the portion in that short time and motivated to keep going. We would like to thank Biology teachers who didn't give up on her till the last day with the subject she struggled with. Our gratitude to Sheetal ma'am and Himani ma'am who taught her time management and studying techniques. Thanks to Dr. Prabhu who believed in her and supervised her progress.
Thank you team APMA for this unique and memorable journey for us! 😊
Chandrashekhar , Shivani , Rachana Pankhawala
Chandrashekhar , Shivani
Rachana Pankhawala Parents
Dr Vaishali Dhande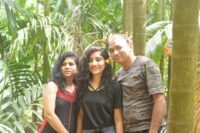 I am extremely pleased to write this testimony for the Abhang Prabhu Medical Academy. Enrolling my daughter in their program was one of the best decisions I have made for her education. APMA is not just the academy. It is a family, Dr Prabhu is a fatherly figure of the family. Other than teaching, he and his team does the perfect psychoanalysis of the students. So parents know what the student needs along with the academics. Being taken care of every aspect students feel supported in every way. This also boosts their confidence. I have seen many classes, but this unique quality makes them special and that is the secret behind their success. The level of communication throughout the entire process is really good, and I always felt informed and involved. I wholeheartedly recommend APMA to all parents seeking an educational institution that truly cares about their students' success in every aspect not only in terms of marks.
Dr Vaishali Dhande
(Mother of Anannya Dhande)
Dr. Trupti Prasanna Khatawkar
My son Ishan Khatawkar had joined test series at APMA for NEET 2023. We found it very helpful for the exam pattern. The emphasis given on NCERT book encouraged him to read NCERT and improve his understanding of the subjects. He also found solving the tests interesting and enjoyable.
We would to thank team APMA and give best wishes to all students for their future.
Dr. Trupti Prasanna Khatawkar
(Mother of Ishan khatawkar)
Dr. Sandhya Bhadane

Shreenivas Bhadane my son had joined APMA for test series for Neet 2022. It was a great experience . It really helped him to practice Neet level questions.They have a good question bank with wide variety of Neet oriented questions. Dr. Prabhu's timely guidance helped him boost his Neet preperation.Thank you so much team APMA.
Dr. Sandhya Bhadane
(Mother of shreenivas Bhadane)
Dr. Ruchira and | Dr. Sameer Saxena.

At APMA, academics, the core of preparations for NEET is well taken care of by able and supportive teachers.  Feedback and doubt-solving are always welcomed and teacher – student discussions are scheduled at regular intervals. Focus is only NCERT based as prescribed by the NTA.
NEET preparations primarily need coaching and studies but at the same time, there are elements of mental strength, reassurance, self-confidence, and most of all sustained focus coupled with planning. Raavi was raised from episodes of self-doubt to confidence and, she was always reassured she was on the right track or corrected to the right path when she deviated. APMA ensured her focus stayed and helped her to meticulously plan her studies. APMA believes in a holistic approach to the examination and it works.
You are monitored at every step. Pressures of NEET are ably handled by counselors. APMA is cautious to not overburden the student leading to an unnecessary 'burnout '.  APMA is family, and if you trust your family, then trust APMA.
Dr. Ruchira and | Dr. Sameer Saxena.
(Parents of Raavi Saxena)
Dr. Kavita & Dr. Sanjay Veer.
The Performance Enhancement Programme designed by APMA was an excellent way to understand the student's strengths and weaknesses. Most importantly, it was tailored specially for each one of them and helped in thorough analysis. The tests are all strictly NCERT based and are a mirror for the student's preparation.
Throughout the journey, the entire faculty of APMA has been very supportive, not only in the academic part, but also to motivate and guide the students in the right direction.
We, as parents, are very grateful to Prabhu Sir and the entire team of APMA for their time, encouragement and sincere efforts. You have had quite an instrumental role in climbing this mountain called NEET.
Dr. Kavita & Dr. Sanjay Veer.
(Parents of Shruti Veer)
Mrs. Aarti &Mr. Anand Kanyalkar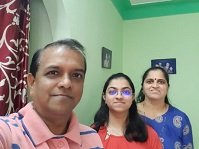 Thank you very much to Doctor
Abhang Prabhu medical academy
it's not an academy it's a Gurukul, where I found faith in Guru's students and Students on Guru.
 I am very grateful to Doctor Abhang Prabhu Sir, an energetic, disciplined, confident, and talented person, and his whole team.
In a systematic way, they shape the diamonds. I do not have words to express my gratitude.
All teachers Sachin Sir, Hemal Sir, Tejas Sir, GS Sir, DM Sir, Natu Sir, Himani ma'am, Sheetal Ma'am, Ami ma'am, Forum ma'am, and entire team who put their all efforts to teach and guide the tricks of MCQ, their short forms to remember the information.
I am also thankful to the coordinator of this Gurukul, Yugandhara madam, Sanit Sir, and their colleagues.
Thank you once again to Prabhu Sir for giving me confidence right at the initial stage that Vaishnavi has talent and she will definitely crack the NEET with a good score as a part of this team.
Mrs. Aarti &Mr. Anand Kanyalkar
(Parents of Vaishnavi kanyalkar)
Dr. Dasmit Singh.

APMA…the need of our times:
In competitive times such as these, what better to expect than a coaching class so focussed on whetting out the student's potential? APMA is all that and much more.
The polish that they are able to give to the student and get them to perform in a high-strung environment, under the weight of intense competition, is absolutely exemplary.
Their follow-up for each student and individualized approach, over and above the attention to detail, is their innate strength which helps each child to aim and perform way above their natural ability.
Kudos to APMA for helping my daughter and I am sure they will go a long way in benefitting protean other students to crack the
NEET exam
.
Dr. Dasmit Singh.
(Father of Hunar khokar)
Dr. Trupti | Dr. Pankaj Deshpande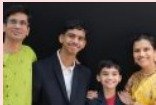 Atharva was struggling to get past even 500 in his class FSTs and was very low in confidence when he joined APMA crash course and test series, which proved to be a game changer for him in just 2 months' time. The teachers were extremely supportive and guided him wonderfully to better his performance. Prabhu sir's specific instructions along with his and his team's motivation and result-oriented approach helped him to achieve his best score in the final exam. We are glad that in Dr. Prabhu, our son has found a true mentor who really brought out the best in him.
Dr. Trupti | Dr. Pankaj Deshpande
Atharva Deshpande Parents
Dr. Gautmi Phadke | Dr. Sachin Phadke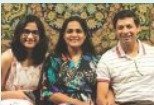 I would like to take this opportunity to express my gratitude towards the APMA team and Dr. Prabhu himself. My daughter was studying sincerely and dedicatedly for more than 2 years. When we met Dr. Abhang Prabhu and his team, instant sparks were lit.
Dr. Prabhu helped my daughter change her set patterns. He introduced newer corrective measures. A PARADIGM SHIFT resulted in deep motivation and she saw her priorities in different light. This awareness scripted in the final two month's journey will pay rewards handsomely!!
We as her parents are immensely grateful to you Prabhu Sir, for personally investing your precious time, proactive energy and spirited encouragement above all for shaping her success story.
Dr. Gautmi Phadke | Dr. Sachin Phadke
Ananya Phadke Parents
Mrs. Archana | Dr. Parag Sancheti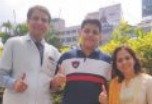 In the middle of the previous class course, Aman started losing his focus resulting in deteriorating performance and lost confidence. Prabhu Sir's well-placed systems and his interactive sessions along with Team APMA's constant guidance, detailed study material and ncert based test series helped Aman improve tremendously. APMA is a very comprehensive coaching academy which understands the student's needs, strengths and weaknesses and guides each one with a game-changing tailor-made program. We are thankful to Prabhu Sir for his timely intervention, help, inspiration, and guidance.
Mrs. Archana | Dr. Parag Sancheti
Aman Sancheti Parents
Mrs. Prajakta | Mr. Nitin Tappe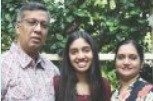 We would like to share Anushka's journey with team APMA and would like to express our gratitude towards Prabhu sir and his team. It was a time when Anushka and we were clueless on how to improve her performance. This is where APMA's individual approach helped her immensely. Their NEET standard papers gave enough ideas on which topics to improve as well as how to study topics which needed NCERT reading. Their proactive approach and equal interest in each student is highly effective & appreciable. They tried to understand issues faced by Anushka and gave many individual recommendations and not generic which is applicable to all. Special thanks to Dr .Prabhu for being a mentor to Anushka.
Mrs. Prajakta | Mr. Nitin Tappe
Anushka Tappe Parents
Soham Kustagi
I am grateful to APMA for their exceptional coaching in NEET.
The knowledgeable faculty and structured curriculum were invaluable.
Interactive sessions and mock tests improved my understanding and preparedness.
The motivating environment fostered camaraderie among students.
Thanks to APMA, I achieved remarkable success in the NEET exam.
I highly recommend APMA to aspiring medical students
Soham Kustagi
Student
Shruti Natu
When I started my neet preparation, I was overwhelmed by the endless amount of knowledge available on topics. APMA's approach is unique in sticking only and only to ncert. It helped me pinpoint my efforts and not get burnt out by too much but misdirected studying.
Their PEP program, regular tests were very effective in guiding me to find out where I was lacking and improve on it.
Neet is a mental game as much as it is an academic journey. Prabhu sir, Himani ma'am and Sheetal ma'am 's wise words, not only motivated me, but inspired me…
I am extremely grateful to APMA for creating a very friendly environment, personalized experience and giving me sound advice which will help me even beyond neet!
Shruti Natu
Student Testimonial
Raavi Saxena
APMA's arrival was the best thing that happened during my NEET preparation. I was transformed from a nervous little aspirant to a confident exam goer on the final day. Prabhu Sir and the entire team at APMA created a very positive learning experience for me- always clearing all my doubts, difficulties and concepts during this journey. Their mentoring has helped me more than words can express, and I will always be grateful to them!
Raavi Saxena 2022
695/720